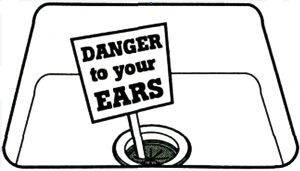 (Note: the following article is excerpted from the free booklet "New Secrets of Better Hearing") The first step in conserving your hearing is to learn more about what may cause you to lose it. You're doing that already, just by reading this. What else do you need to know, right now?
For one thing, you should learn where noise hazards lie. We all live in a surprisingly a noisy world; the risks are all around us:
Standard home toilet flushing: 74 db. – safe
Water running in the kitchen sink: 76 db. – safe
Frigidaire washing machine: 76 db. – safe
A ticket desk at L.A. airport: 77 db. – marginal
In a concourse near the airplanes' gates: 84 db.
Takeoff from a runway in a Boeing 757: 100 db.
Cruising at 30,000 feet in a B-757: 93 db.
Home stereo system at realistic volume: 82 db.
Wahl electric hair trimmer: 84 db.
Running the shower, shower door closed: 85 db.
Sony telephone ringing: 86 db.
Hoover upright vacuum cleaner: 88 db.
Front door slamming shut: 89 db.
Garbage disposal: 91 db.
Craftsman® lawnmower, electric chain saw: 95 db.
Electric leaf blower: 96 db.
In an open-windowed Acura cruising at 65 m.p.h.:
• with the radio at normal volumes: 100 db.
• with the radio turned off: 98 db.
• with the windows rolled up: 90 db.
Moral of the story here? Protect yourself: avoid prolonged
exposures to any sound source not marked "safe."