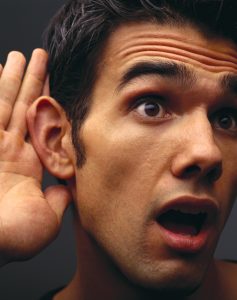 People with hearing losses are often unaware of, or may even deny, their deficits. So the National Center on Deafness cites these warning signs for risk of hearing loss:
1. A history of ear infections
2. Tinnitus — squeals or ringing in the ears
3. Talking loudly
4. Turning up the TV set's volume
5. The feeling that talkers too often mumble
6. Frequently complaining that "I can't hear you"
7. Confusing one word with another with a similar sound
8. Needing to watch a talker's face and mouth in order to understand what they are saying
White males with a history of exposure to high noise levels (on the job, from concerts or listening to loud music via earbuds, etc.) are also at higher risk. The advice in this blog is critical for those who suffer any of these conditions.
There are some ways to do crude "do-it-yourself" hearing tests. If you have an old "tube style" TV set around, turn it on and let it warm up with the volume turned all the way down. All such sets emit an audible high-frequency squeal which good hearers can hear from several feet away. If you can't, have a friend come up
from behind you with a ticking watch or clock. See how close it must be to each of your ears before you hear it, then ask a friend with good hearing to take the same test. Compare your "distances to audibility."
Better yet, have an audiologist give you a professional hearing test. If (1) you experience any of the symptoms noted above, or (2) you can't pass our do-it-yourself hearing tests, or (3) if you are over fifty, you should have a hearing health professional test your hearing every five years, or annually if you are over sixty. Hearing aid sellers may even give you a quick test, free.
And remember: good hearing aids the chance of having a good life. If your hearing is seriously impaired, face it, and take heart: it's now possible for even the profoundly deaf to hear. Hearing aids tend to produce satisfaction proportional to investments made in their purchase, and in learning their proper use. Don't let pride, or an isolationist's ideology, stand in the way of your ability to communicate with the people who care about you.