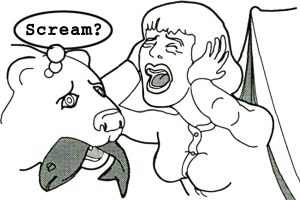 Here are some more tips for things you can do to protect and preserve your hearing ability:
Scream. If you find yourself standing beside a firing jet engine or artillery piece without ear plugs, or any extremely loud sound source, voicing a twenty-second long, escalating scream may cause your strapedius muscle to tighten for a bit of extra protection.
Drive safely. If you wear earplugs to protect your hearing when you drive, just stay alert. Despite state laws against using headphones while driving, statistics show that deaf drivers are safer than the rest of us.
Avoid misuse of "personal electronics." The abusive volumes sent through headphones and portable music systems caused high frequency hearing loss among a third of the fad-prone new students at the University of Tennessee in 1981.
Set vanity aside. If you're caught without earplugs when you need them to block noise – say, in a subway or at an airport, forget your self-consciousness and press your hands tightly to your ears. Save yourself!
At worst, double up. If you must attend or perform in a heavy metal rock concert, or face other extremely noisy environments, try wearing both ear plugs and earmuffs.
Work soundly. If you work in an office, cut distractions and the destructive effects of noise: turn your desk to face the wall, and surface the wall with a sound absorbent material like carpet, fabric, or fiberglass insulation material. You'll have to turn to face visitors, but you will do so without a barrier between you.